Thu 21 Aug 2008
It's been a ridiculously long time since we last posted here. So much for "try(ing) to aim at at least one post a week", I guess.At least we have a good excuse – we've had a really busy summer. Here are some of the things we've been doing over the last few months…
Betsy got dreadlocks put in! Don't worry, they were only standing up in full Sideshow Bob mode for the first day or two – they've since relaxed and laid down nicely (as you'll see in pictures below). She's been talking about getting dreads for a very long time, and I think she was finally inspired to do so after attending…
… the Erykah Badu / The Roots concert at Marymoor Park. We also made it to the Sharon Jones and The Dap-Kings show at the Woodland Park Zoo, but that's been about it for concerts this summer. We're thinking about trying to make it down to White Center, though, to check out some of the local bands that play at…
…Full Tilt Ice Cream and Pinball. In addition to a gorgeous array of pinball machines, the real attraction is the amazing ice cream flavors hand-made by the owner. Flavors range from semi-traditional (Mexican chocolate, coffee toffee) to experimental (mango chile, horchata, Thai ice tea) to the just plain weird ("The Memphis King" with banana-flavored ice cream, peanut butter and chocolate-covered bacon, or "Homer's Odyssey" with chocolate-flavored ice cream, sprinkles and chocolate-covered doughnuts). We've been there about once a week since they opened (about a month ago), and we made sure to bring our friend Heather and her boyfriend Mike when they visited from NYC. But first, we had to work up an appetite by…
… canoeing on Lake Washington. It was a beautiful day for canoeing, and I think we were lucky enough to get out of the water before the mosquitos came in full force. The weather has been nice for much of the summer, with the exception of today, and…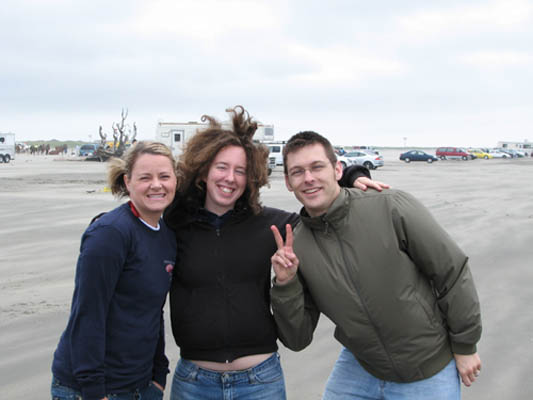 … the weekend we went camping down near Ocean Shores. The beach was extremely windy and rather cold, but still, Betsy and Mandy (pictured above, on the left) went swimming out in the ocean. It was impressively brave. Apparently, salt water is supposed to be good for dreads – helps them tighten up and collect some of the loose ends.
The wind also wrecked havoc on some of the shelters we brought with us, and at the end of the weekend, our friend Doug told us to just throw away one of the cheap ones that hadn't worked very well. But throwing away things is boring. I think it's a lot more fun to…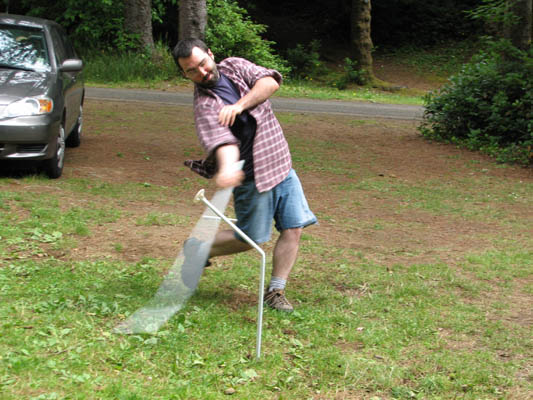 … smash all of the pieces and tear the thing apart! While breaking down camp, Matthew (pictured above), Mandy, Adrian and I took the poor shelter and threw, hit, crushed, bent, batted, battered, and utterly destroyed all of the pieces. It was a fantastic stress release, especially since I knew that we had to come back to…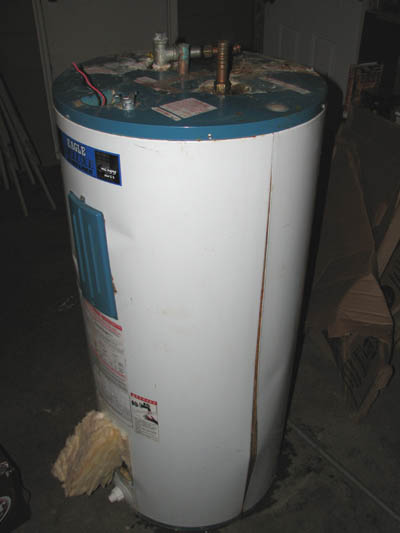 … a broken water heater. On the right side, you'll see a big burst in the seam – that's where all of the water was pouring out of the heater when we came home from work on Friday. We were supposed to leave for camping within an hour of getting home, but that emergency delayed us quite a bit. All told, though, it was probably the best case scenario for a epic failure like that – it was before we went camping, rather than during; it was in a room with a cement floor and no insulation or dry-wall; and based on the amount of water I saw, it had only been spilling for an hour or two. Still not the most fun in the world, though. Fortunately, Adrian had installed a water heater with our friend Eric recently, so he was able to come over and lend assistance when we installed…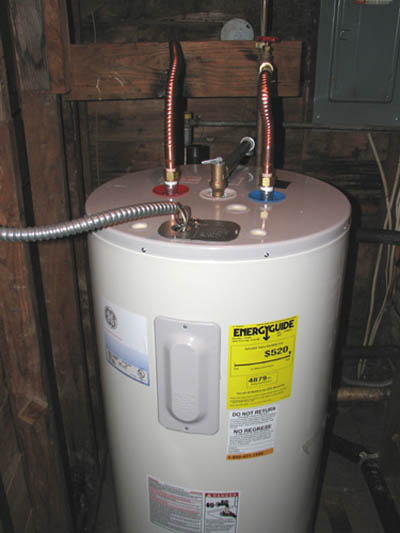 … our new water heater. I had never had to do any work involving hacksawing pipes, using blowtorches to melt solder, teflon tape, or any plumbing work at all, really. It was a bit tiresome at the time, but I'm actually rather proud of the fact that we installed it successfully ourselves. And it's a good thing that we had hot water, because…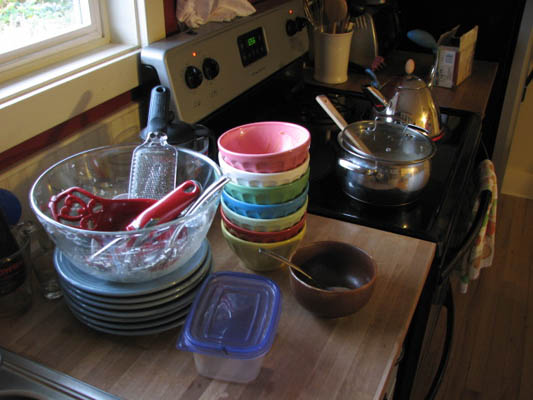 … we always have some dirty dishes to do. (Okay, so maybe this isn't as exciting of a picture as the previous ones, but hey, this is a big part of why I haven't been updating the blog recently – priorities are priorities, after all.) We've had to work extra hard at keeping the house clean these days, as we already had a small house, and we essentially "lost a room" in order to put together…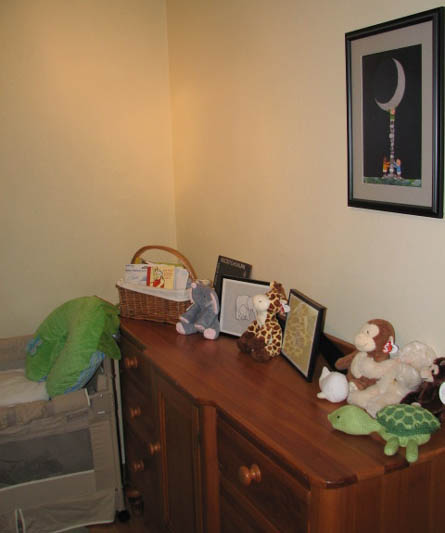 … Eelfang's nursery. It's still a work in progress, but we're up to a point where I feel pretty confident that we would have much of what we would need for Eelfang when s/he shows up. Which is a good thing, because…
… I love me some babies.
---
So, my new goal is to try to take at least one picture a day. I can't promise that they will be particularly exciting (for example, the dishes picture and the nursery picture above are from the first two days of this project), but it'll get me more familiar with my camera and general principles of photography. And it'll also give me an easy thing to post and write about, if I'm not feeling up to a long words-only post. While I'm not going to promise "one post a week" again, I'll do my best to stay on top of this. And if I don't… just bug me a bunch.
Photo credits
Betsy's new dreads – Lish D
Pinball, Canoeing, Todd's huge eyes – Heather M
Erykah Badu – some anonymous Flickr dude
The rest of them – Todd & Betsy

No Responses to " summer pictures "
Sorry, comments for this entry are closed at this time.